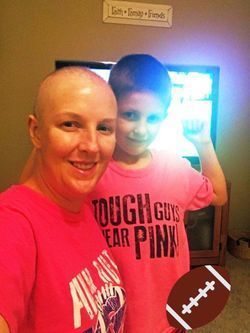 Meet Michelle- the 2021 Recipient!
Michelle is a social studies teacher and lives with her family in Omaha, NE. We are so excited to welcome Michelle to the Pink Bandana family!
Michelle was first diagnosed with breast cancer in 2015, but since then it has now metastasized and spread to her skin, ribs and lungs. She is a teacher at Millard North High School, where she teaches Social Studies. She has a love of history and education, a passion both her and her husband share, who is also a teacher at Millard North. They have one son together. Having cancer during a pandemic has been challenging for Michelle. With visitor restrictions at her cancer center, she is thankful for her fellow cancer survivors and family who have helped her virtually during treatments.
Michelle grew up in Norfolk, Neb. and moved to Omaha to finish school at the University of Nebraska-Omaha with degrees in Secondary Education and International Studies. She has been a teacher for over 16 years. She is a self-proclaimed geography nerd. When she can't travel, she likes to explore different ethnic restaurants.